Hibernate power option Missing: Here's How to Fix it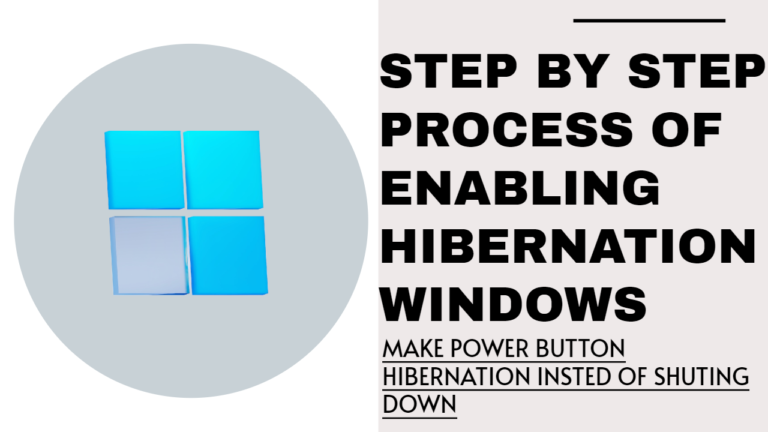 Sleep mode and Hibernate mode have long been available in Windows as ways to "pause" your computer without actually shutting it down.
Sleep is also known as "standby," a low-power state that allows your computer to "wake up" almost instantly when you open the lid or press the power button.
Hibernate, on the other hand, saves your current system state to the hard drive before shutting down the system completely. Restarting it restores that state, allowing you to pick up where you left off. Consider it "deep sleep."Hibernate does not consume any additional power as Sleep does. However, if you use Windows 10, you may have noticed that there is no Hibernate option when you go to Start > Power.

The issue with Hibernate is that it does not always work as expected. For example, when using the Hibernate option in Windows 10, several users have reported that the screen goes off, fans continue to run, and the LED lights remain on for an extended period until the device finally shuts down. When you return, however, the computer usually starts with none of the applications you left running.
Unfortunately, it's a problem that can arise for various reasons, and while there's no one-size-fits-all solution, there are a few things you can do to troubleshoot and resolve hibernation issues.
This blog will teach you how to enable Windows 10's Hibernate option.
Missing Hibernate in Windows 10 Power Options
When you open the Start menu in Windows 10 and select the Power button, no Hibernate mode is listed by default.

You can also right-click the Start button or use the Windows key + X keyboard shortcut to open the "power user menu," then select Shutdown or sign out. Even there, there is no Hibernate option.


Enable Missing Hibernation for Windows 10
Now let's look at enabling Hibernate missing power option in Windows 10

To enable Hibernate mode in Windows 10, go to Settings > System > Power & sleep. Then, on the right, scroll down and click the "Additional power settings" link.

This will launch Power Options in the traditional Control Panel. Click the "Choose what the power buttons do" link in the left column.

Following that, You will see various shutdown, power, and button settings. You should see a list of additional options like Fast Startup, Sleep, and Hibernate under the "Shutdown settings" section. However, all of those options are almost certainly greyed out. To enable Hibernate, click the "Change settings that are currently unavailable" link.

Those options should become available after clicking the link. Check the Hibernate box (or any other shutdown options you want) and then click the Save changes button.

That's the end of it. When you open the Start menu and select the Power button again, you'll notice that "Hibernate" is now an option.

If you right-click the Start button (Windows key+X) and select "Shut down or sign out," it will be listed.

It's also worth noting that the old-school method of using the desktop keyboard shortcut Alt + F4 still works. Following the steps outlined above also adds the Hibernate option.



Fixing the missing hibernate power option
Hibernation can be enabled using a command prompt command.
You will need admin privileges to enable it.
Open Command Prompt with administrator rights. Click the Cortana Search box in your taskbar, type cmd, right-click Command Prompt, and choose Run as administrator.

To enable the Hibernate feature, launch the Command Prompt and enter the following command.
powercfg /hibernate on

Then, execute the following command to set the hibernation file type to full.
powercfg /h /type full


Restart your computer. The Hibernate option should appear in the Power Options menu.


That's how you can fix the missing hibernate option.