Add Me To Search, Add Yourself to Google Search & Google's People Card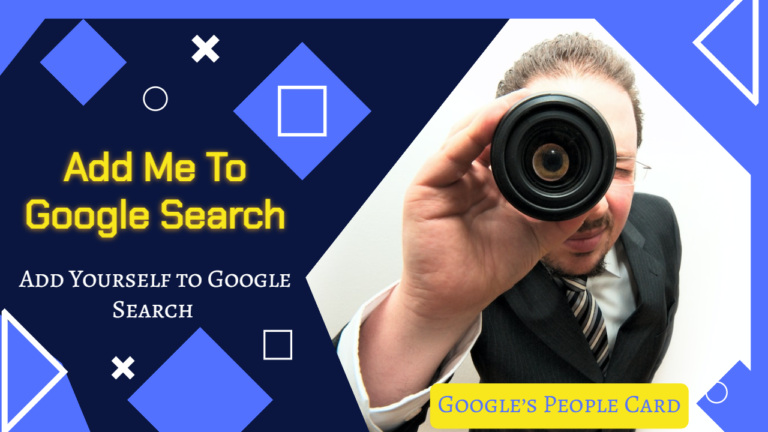 If you are a professional or a business then you would surely know that striking your online presence is highly crucial in this digital era. In order for people to find you, a solid online footprint is vital. 
Take it from our own example, when we become eager to find out about famous people whom we adore or any other high-end profile – we quickly browse through Google which is the largest search engine and we get a preview enclosing the personal and professional details of that particular person. 
But what if I tell you any individual can create such a profile in the world's largest search engine?
Yes, you heard me right. With a new "Add Me To Search" feature, you can create a virtual people card in Google. This new feature will help you boost your online presence and make you more discoverable through your social media profiles and contact information.
Making your own Google virtual search card enables you to manage the way you appear on search results and optimize your Google presence.
Note that you should be residing in India, Nigeria, South Africa, or Kenya to create a virtual card. 
Read through the end of this article to know more about the Add Me to Search feature, its importance, and how you can create a virtual Google search card.
What is Add Me To Google Search?
Google Add Me to Search feature simply means a virtual platform where businesses and individuals can publish public search profile cards that would appear on top of search engine result pages when someone searches for your name in the search bar.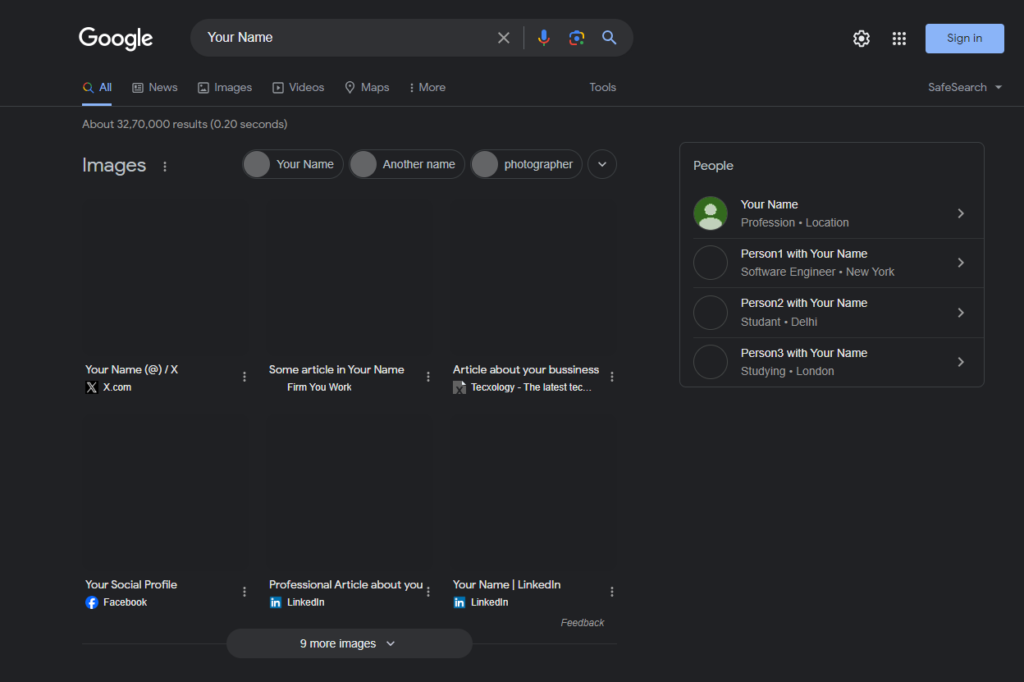 The search card includes your personal information such as:
Profile photo
Name
Education details
Social Media Accounts
Contact info
Email address
Job title
Company etc
The main purpose of this new feature is to support entrepreneurs, business professionals, influencers, freelancers, or any other individuals who want to create strong online visibility and exposure.
Any individual can use this information to discover you and your business and this powerful tool makes it easier for people to connect with you. 
Let us now look into the importance of this new feature.
Importance of Add Me To Google Search
There are numerous importance of creating your own public card on Google. Some of them are as follows:
Increase Search Engine Visibility
Add me to the search feature help you to create a public information panel that would show up if someone searched your name in the Google search bar. This would help you to increase search engine visibility and thereby improve your personal branding 
Eye Catching Professional Profile
The Google public card will look amazing on all devices whether it is a smartphone, tablet, desktop, etc, and the card is optimized for search engine visibility and can be easily customized to develop an attractive professional profile. 
Create a Powerful Online Presence
The Add Me to Search feature helps in developing a well-built online presence in Google which is the largest search engine in the world. By adding your own virtual search card, it will be easier for people to discover you on top of search engine result pages based on the information you provide when they search for your name.
Make Your Own Virtual Business Card
Through your Public Add Me to search profile, any individuals can find you, your business, and all the relevant info that you provided. This way it makes it easier for them to connect with you and increase the chance of doing business with you.
Optimize Your Social Profiles
Your social media platform links such as Linkedin, Twitter, Instagram, Facebook, Youtube, etc can be added to the Add Me to Search profile which will be of use to the people who are looking for you to find you easily and start following you on social media.
Gain Exposure
Adding your details to a Google search card enables people to find you on top of search engine result pages thereby building a strong online presence and exposure on Google.
How to create a Google People Card using Add Me to Google Search
If you are looking forward to creating a Google people card, it is mandatory that you have a mobile device with an internet connection and a personal Google account.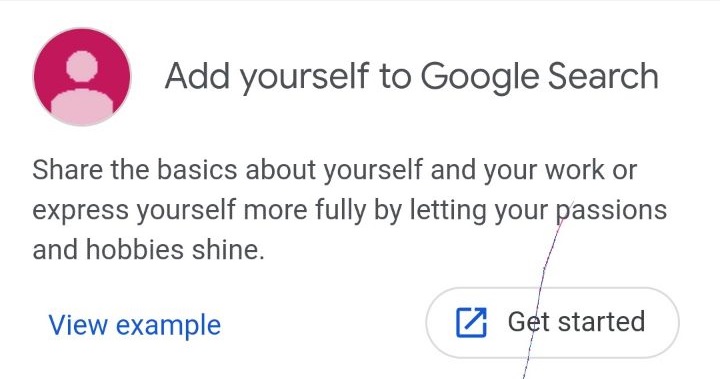 The following are the steps in creating a Google People Card using Add Me to Google Search:
Step 1
The primary step is to enter "Add Me to Search" at the top of the page where you will see a people card option at the top of the screen. Click on "Get Started" to start creating your Google card.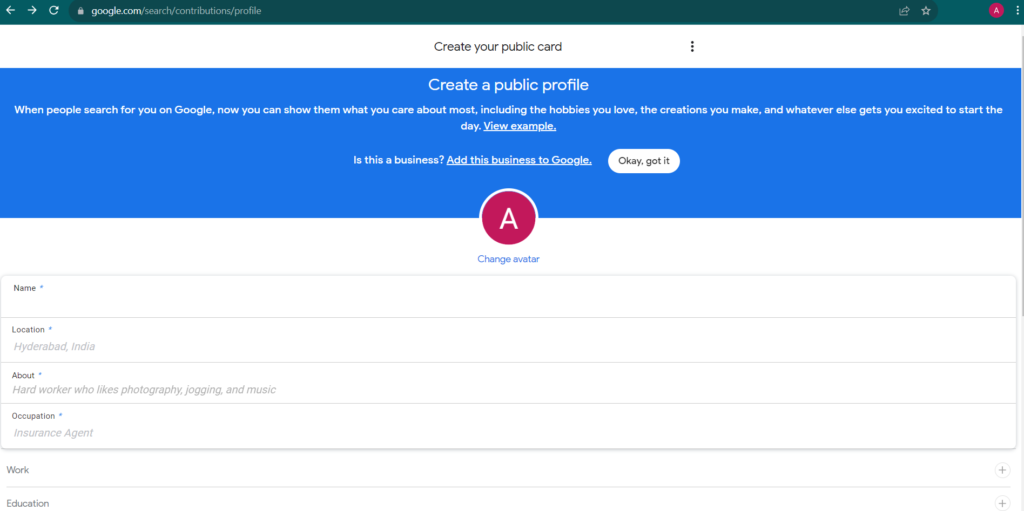 Step 2
The next step is to add all the information that you want your searchers to know about you. There are four mandatory fields which include your name, location, about, and your job. There are other fields that are optional such as your work, hometown, education, website, social media links, email address, and phone number.
You can link all your social media profiles such as Linkedin, Instagram, Facebook, Pinterest, YouTube, Twitter, and SoundCloud.
Step 3
After adding up the necessary information, ensure to preview your people card before publishing it online. Once you preview your people card and make sure everything is relevant and perfect, just save it and Google will immediately index in search results.
Also Read: Best Internet Speed Monitor Apps for Your Windows PC
Editing My People Google Card
If you want to edit or add any more information to your People Google Card, Follow the below steps: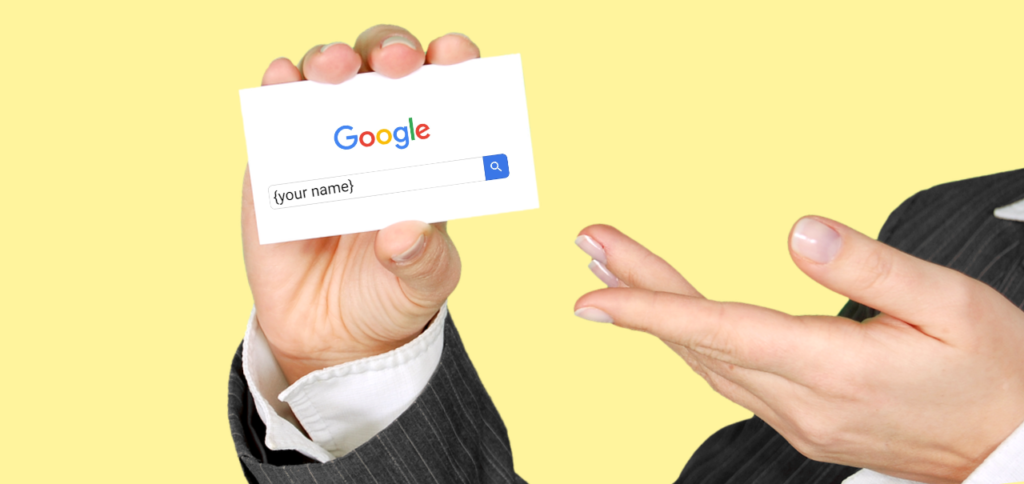 Step 1
Log in to your Google account using your mobile device before opening the browser. Enter Add Me to search at the top of the screen where you will see the People card option at the top of the search results.
Step 2
Click the edit button on your people card which is located in the top right corner of your card. Once you click the edit button, a pop-up window will show up. Simply add or edit any information that you want.
Step 3
When you are done making all the necessary changes, a preview of the edits will be shown to you. Click on the save button and changes will be saved.
Steps To Remove Your Phone Numbers and Email Addresses from Google People Card
There are moments when certain users prefer not to share their phone numbers or email addresses publicly for security reasons. If you are one of those users who have added your phone number or email address to your people card and would wish to remove them, please follow the below steps.
Step:1
Follow the first two steps of editing my People Google card that we discussed in the last topic.
Step: 2
If you wish to remove your contact details like phone number or email address, the next step is to click on the delete button and let them remain blank.
Step: 3
Once you made all the necessary changes, preview the edits and click on the save button. When the card goes live again, make sure that it does not display your phone number or email address by searching your name on Google.
Steps To Remove Google People Card from Search Result
If you want to delete Google People Card from the search results, Follow the below steps: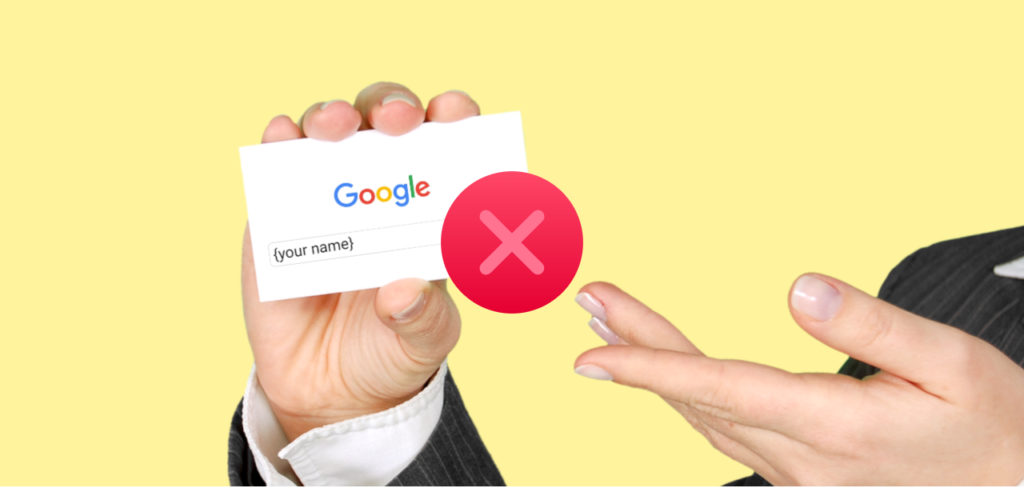 Step:1
Open your Google web browser and type "Add Me To Search" on top of the screen where you will see the People card.
Step: 2
Click the "edit" option available at the top of your screen
Step: 3
Click on the three-dot button on the top right corner of your card and click the "delete" button
Step:4
A pop-up window will show up once you click the delete button. Confirm it and your people card will be removed from the search.
Tips To Utilize Most Out Of Your Google People Card
Google People Card is one of the most effective tools to promote yourself and your brand. Thus, it is very crucial to publish accurate and relevant information on your People Card. Following are some of the tips or guidelines you can watch out:
Ensure that you always keep the information up-to-date on your Google People Card. Redundant information may result in searchers refraining from contacting you. Also, if the information is not updated all the time, there is a possibility that it might get deleted from the search index by Google. 
By no means use other people's information or profile pictures in your profile. Add information only about yourself and post an HD cover image as a profile image in your Google People Card
It is highly essential to publish authentic and accurate information about yourself, especially if you are a professional and a business. Google might delete your People card if it perceives a mismatch between the actual information and the information provided on the card
Avoid making a mess in your card with too many links. Be attentive to the links and only add links to your website or social media profiles that will be useful for your searchers.
Never use any humiliating or inappropriate language on Your Google People Card as Google forbids the use of any offensive language and negative comments
Also Read: Debloat Windows 10: Make It Fast (EASY Command)
Wrapping-Up:
If you are in pursuit of making yourself more discoverable online and showing off your personal branding, the Google people card will be an excellent choice. The visibility on search engine result pages is high for your card when you provide more information about yourselves for Google Add Me to Search. Ensure to use keyword-rich content and also make sure your card is optimized for mobile since many searchers prefer mobile devices. 
Create your own search card to make meaningful connections by following the steps we discussed in this article and portraying your professional experience and skills. This way it is easier for your potential customers to find you.